Our Staff
We pride ourselves on providing certified teachers with strong backgrounds in early childhood education.  Equally as important is a teacher with compassion, sensitivity and one who is able to instill curiosity and wonder in your children.  Our teachers, assistants and staff are here because they love children.  We'd like you to meet them all!
---
Michelle Neal: Director, Lead Teacher Sunbeam Class and Music
Contact Shelley: shelley@achildbecomes.org
Teacher Shelley is a graduate of Seattle Prep High School, Matteo Ricci College and Seattle University.  She has a BA in Humanities and a BA in Education.  She also has her Master's Degree in Early Childhood Education from National University in San Diego.  She is currently working part time on her Education Doctorate. She has taught both first and third grades at St. Bernadette's School in Burien.  She has been the Director and preschool teacher at A Child Becomes for the past 25 years. She is a resident of West Seattle, married, and has four children. The oldest, Alex is a rocket scientist (really) for Blue Origin.  Tommy is a certificated teacher and teaches middle school.  Sean is a graphic designer working for Fanta Graphics in the UDistrict and Enya attends Bishop Blanchette High School.  In addition to teaching and parenting, Shelley enjoys coaching Track and Field (ages 8-14) and is Head Cross Country Coach at West Seattle High School.  She also competes in running competitively.
Stephany Green: Lead Teacher, Butterfly 4 Day Class and Sunbeam 4 Day Class
Contact Stephany: stephany@achildbecomes.org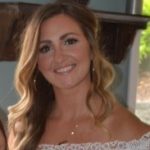 Stephany has been working with young children for more 15 years, and a member of the teaching team here at A Child Becomes for five. She is a graduate of Washington State University where she received a bachelor's degree in Early Childhood Development and a Minor in Disabilities Studies. She grew up in the West Seattle area with her three sisters, attending Holy Rosary and Kennedy High School. She enjoys being active and loves dancing (Zumba), and spending quality time with her family and friends. She is recently married this summer to her husband Matthew and looks forward to starting a family of her own one day!
Jan Newgent: Lead Teacher, Caterpillar, Butterfly 3 Day and Sunbeam Classes
Contact Jan: jan@achildbecomes.org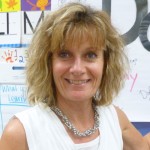 Jan has been working at A Child Becomes for more than 20 years now and works in both the Caterpillar and Sunbeam class rooms.  She came to the USA from New Zealand more than 20 years ago and has three children. Natalie is a firefighter, Ben is a senior in High School and Sam is a freshman in high school this year.  Her special interests are any type of biology and science and she has a Microbiology Degree in Serology (the scientific study of blood serum and other serums.)  She loves to garden and maintains her own huge flower and vegetable gardens complimented by four laying hens!  She has a twelve year old dog, Rocky, who has recently gone blind with diabetes, a bearded dragon and the latest aquisition, a hamster named Houdini.  She feels so lucky to teach young children each week and see the world through their eyes!
Rachel Hagenson: Lead Teacher, Butterfly 4 Day Class
Contact Rachel: rachel@achildbecomes.org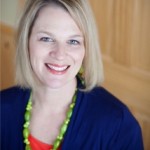 Teacher Rachel will be starting her fourth year in the Butterfly Room this fall and loves all the hugs, smiles and stories she receives daily from the students.  Prior to her move to Seattle in 2012, Rachel was a Montessori Preschool Director for 10 years and loved witnessing the development of the students in her school, from infancy to Kindergarten.  With a BA degree in Psychology, she's excited to work in the Butterfly Room again this year with Teacher Stephany and Teacher Uta.  Outside of the Butterfly Room, Teacher Rachel works with host families and au pairs as a Local Coordinator, is a Lafayette PTA Board Member, Girl Scout leader and assistant basketball coach.  You can also find her running after her two kiddos (Maddie, 11 and Will, almost 9) all around West Seattle.
Hope Broucek:  Lead Teacher, Butterfly 3 Day Class
Contact Hope: hope@achildbecomes.org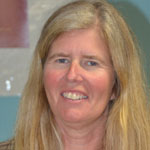 Teacher Hope has a BA in Political Science from the University of Michigan.  She has been with A Child Becomes since 2008 working in the Sunbeams, Caterpillars and now the Butterfly classrooms.  She has served on the Lafayette PTA board for 7 years and taught an afterschool Lego robotics program there as well.  She has worked in advertising and marketing before having a family and feels so fortunate to be teaching preschool at A Child Becomes.  She has two children and spends her time driving them to soccer and other extra curricular activities. She also enjoys gardening and reading when time allows.
Melissa Carlstedt:  Assistant Teacher, Sunbeam 5 Day Class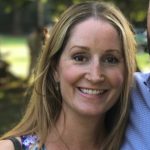 Melissa is a fellow West Seattleite, living in the neighborhood for more than 13 years. Born in LA but raised in Tacoma, she graduated from the UW with a BA in Sociology. She spent 11 years at Nordstrom as a visual merchandiser in various stores in the Puget Sound and left the corporate world after having her second child. Spending time with her two children, Zooey and Miles is an important part of her time outside of school and you'll find her volunteering their classrooms at Holy Rosary, and with her husband hiking and exploring the natural beauty of our area. This is her third year with A Child Becomes.
Brian Johnson: Assistant Teacher, Sunbeam 5 Day Class
Brian achieved his BA in Liberal Arts from the University of California, Riverside in 2005.  He later moved to Seattle, where he met his girlfriend.  Together, they have spent the past 5 years teaching abroad, recently returning home to get married and start their own family.
Brian brings a wide range of teaching experience:  he has taught every subject to students of all ages and skill levels in multiple countries.  Also, Brian's passion for teaching extends beyond academia:  after winning the "Body Transformation Fitness Challenge" he also now teaches health and fitness as a certified personal trainer.  He loves to share his knowledge of nutrition and exercise with students and parents alike.
Uta Rockel:  Assistant Teacher, Butterfly 3 and 4 Day Classes
Teacher Uta is originally from Hamburg, Germany where she has a long history of teaching.  In both private and public schools, she taught English and German 'as a second language' to kindergarten through business level students.  As well she taught math ("Number Land") to preschool and kindergartners in and around Hamburg.  She also has experience tutoring children with disabilities.  Uta holds a Master's degree in psychology and a minor in education from the University of Hamburg.  She moved to Seattle by way of Pasadena, CA in 2010 with her daughter Hannah and dog Marley.  Hannah is in her junior year at Cornish College on scholarships (super proud mama)!  In her spare time, Uta loves to paint and art history and would love to go back to school to study these things.   In the mean time, she writes, bikes, reads loads of books, and enjoys walking her dog and going to movies.
Stacy Chung: Assistant Teacher, Caterpillar Class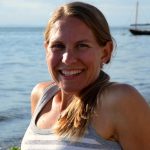 Stacy is from Naperville, IL where she first found her love of working with kids as a swim coach. She went to the University of Wisconsin-Stevens Point to earn a BS in Natural Resource Management, and she was a swim coach and taught environmental education along the way. She served in the Peace Corps in Slovakia working at an after school youth center teaching swimming, English Club, and coaching an Odyssey of the Mind team. She moved to Seattle and earned her Masters in Teaching from the University of Washington. She taught in West Seattle for 8 years as a kindergarten and second grade teacher at Lafayette Elementary and K-8 STEM. She has two daughters, both graduates of the ACB program. Stacy is excited to be part of the A Child Becomes Preschool family.
Mariah Crockett: Assistant Teacher, Butterfly 4 Day and Sunbeam Classes
Mariah is a graduate from Central Washington University where she earned her bachelor's degree in Elementary Education and Early Childhood. As part of her program of study she worked in various elementary schools in Puget Sound including Holy Rosary. She spent a year as a substitute in the Highline School District in K-5 classrooms and most recently coordinated activities for elementary students in a local after care program. She has a passion for working with children and a great love for the water. For the past several summers, she and her sister have taught hundreds of kids to swim and the importance of water safety. Mariah feels it is very important to build a strong relationship with each child she works with. Ensuring that children feel heard and understood is one of her biggest priorities. She is looking forward to bringing these qualities to A Child Becomes to ensure each child has a safe and positive learning experience.
Grandma Dorothy:  Literature Specialist, Sunbeam 4/5 Day Classes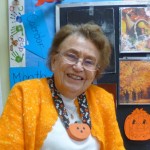 Grandma Dorothy is our literature guest visitor who visits the Sunbeam class on Thursdays with a basket of homemade cookies,  cutter-cut to match our theme. She selects and reads out loud, a book of special interest.  She always has interesting stories to share that help build on our knowledge. Grandma Dorothy has 27 grandchildren!  She travels from Vashon Island where she was an Elementary School Librarian for 25 years. She is a graduate from Central Washington University where she received a teaching degree and her age is a tightly held secret!  We love the inter-generational aspect and hope she carries on with us for another decade.  She enjoys sewing and knitting, has authored her own literature program for young children, and can claim TWO 'hole in ones'!
Aude Arutunian:  French Specialist, Assistant, Sunbeam Class
Aude was born in France and moved to Seattle in 1999.
In Nantes, West France, Seattle's twin city she took courses at "les Beaux Arts" and then got a 5 year degree in design and architectural design. She works as a lighting designer and specializes in children's design. She paints, draws, creates… she express creativity in different forms: a small business of coloring postcards for kids, with her husband she designed a kids app for the iPhone.
She lives in West Seattle with her husband and 3 kids. Swimming is a must and there is not a day without singing. She and her husband are big fans of hiking and travelling. And she LOVES being a mom. She travels back to France as often as she can and at home speaks French. Teaching her culture, identity and language to her kids is very important.
Teaching a class is really exciting for me. I am sure that preschool is the perfect age to learn a language. Voila!
Ann Limbaugh:  Office and Business Assistant
Contact Ann: office@achildbecomes.org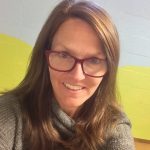 Ann lives in West Seattle with her husband and two children, both of whom have spent lots of time at A Child Becomes and are graduates of the preschool.  Ann grew up in upstate New York, attended college in Ithaca, NY where she obtained a degree in Communications and Writing.  She moved west to Colorado for several years before finally settling in Seattle in 1994.  She's worked in various industries including advertising, video production, retail and technology.  After having her second child, she left the corporate world and now spends her time at swim meets, the classrooms of her children, tending to her chickens and volunteers with Mom's Demand Action.  She loves taking photographs, pilates, camping with friends and family, and snowboarding and is excited to be working at a school with great energy, enthusiastic teachers and happy kids!